In an increasingly restrictive religious regime in Afghanistan (subsequent to their recent ban on higher education for Afghani women); the Taliban rebel government has now proceeded to ban women's use of artificial contraceptives, by force of law. Using the excuse that contraception is a Western conspiracy to limit the birth of Afghanistan's Muslim population, the regime is now clamping down on one of the last remaining rights of a woman in that country – to take responsibility for her own capacity to bear children – even if doing so happens at the risk of her own health and physical and mental well-being.
This rapid escalation by the Taliban to extinguish the rights of women to determine their own way of life; their further access to higher education (a hard-won right that has been welcomed by women around the world); and now their right to decide whether, or not, to bear children – Human Rights which Western women have long taken for granted in a modern society – spells the promise of a very bleak future for the woman of this country that is now ruled by a male-dominated religious theocracy.
Women's Rights have been gradually granted by progressive governments in all Western countries – a matter of equal justice being a part of Western democratic convention – whereas such rights have taken much longer to be put into place in countries of totalitarian theocratic societies; so that this latest tough crackdown on the contraceptive rights of women in Afghanistan could be seen as another attack on women.
Only recently, for instance, has a woman had the right to drive a car in some of the more conservative Arab Republics – even though a woman's mode of dress is still monitored by the male religious authorities of such countries; so that women have still not yet been granted status equal to that of men – a situation which seems to boost the morale of the male leaders in those communities. Whereas, in most Western countries, women not only have the right to an equal say in government, they also have free access to higher education and to high office in national and local government decision-making.
In what was once, largely, considered to be 'a man's world' in national and international affairs, one only has to tap into 'Google' to find that many heads of modern government departments – as well as of commercial and financial institutions around the world – now happen to be capable women who have been behind (and sometimes at the forefront of) the various success stories in local, national and international political, business and social enterprises that contribute towards the common good of the world's population.
The social and material downgrading of Women's Rights may well prove to be to the detriment of their active contribution to World Peace (what woman has ever started a world war?) It has also worked out to the detriment of a country's social and economic well-being, so that this new measure to deny the right of women of Afghanistan to control their own procreative capability, could prove to be a catalyst to the eventual downfall of those regimes (male dominated) which seek to take control of this most private, intimate and powerful aspect of a woman's basic contribution to the well-being of society.
Father Ron Smith, Christchurch, New Zealand
_______________________________________________
Taliban bans contraception calling use a 'western conspiracy'
Reports that fighters have threatened those issuing birth control medicines come as Afghan midwives and activists warn of impact on women's health and rights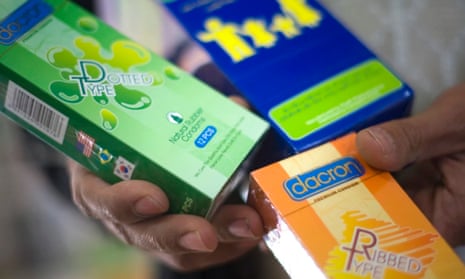 Haroon Janjua – THE GUARDIAN – Fri 17 Feb 2023 1
Taliban fighters have stopped the sale of contraceptives in two of Afghanistan's main cities, claiming their use by women is a western conspiracy to control the Muslim population.
The Guardian has learned that the Taliban has been going door to door, threatening midwives and ordering pharmacies to clear their shelves of all birth control medicines and devices.
"They came to my store twice with guns and threatened me not to keep contraceptive pills for sale. They are regularly checking every pharmacy in Kabul and we have stopped selling the products," said one store owner in the city.
A veteran midwife, who did not want to be named, said she had been threatened several times. She said she was told by a Taliban commander: "You are not allowed to go outside and promote the western concept of controlling population and this is unnecessary work."
Other pharmacists in Kabul and Mazar-i-Sharif confirmed that they have been ordered not to stock any birth control medicines.
"Items such as birth control pills and Depo-Provera injections are not allowed to be kept in the pharmacy since the start of this month, and we are too afraid to sell the existing stock," another shop owner in Kabul said.
It is the latest attack on women's rights by the Taliban who, since coming to power in August 2021, have ended higher education for girls, closed universities to young women, forced women out of their jobs and restricted their ability to leave their homes. Restricting contraceptives will be a significant blow in a country with an already fragile healthcare system.
One in every 14 Afghan women dies of causes related to pregnancy and it is one of the most dangerous countries in the world to give birth.
The Taliban's Ministry of Public Health in Kabul has not issued any official statement on the issue and the UNFPA representative in Afghanistan did not respond to requests for comment.
Taliban fighters patrolling in the streets in Kabul told sources that "contraceptive use and family planning is a western agenda".
For Zainab, 17, who was married two years ago in the northern city of Mazar-i-Sharif, the ban on contraceptives was a shock when she was told by her midwife last week.
Zainab, who has an 18-month-old daughter, is worried. "I was secretly using contraceptives to avoid immediate pregnancy. I want to raise my daughter well with proper health and education facilities but it shattered my dreams when the midwife last week informed me that she had no contraceptive pills and injections to offer me," she said.
"I left education to get married and I don't want my daughter's fate to be the same as mine. I seek a different future for my daughter. The last hope to plan my life has ended," said Zainab.
Shabnam Nasimi, an Afghan-born social activist in the UK, said: "The Taliban's control not only over women's human right to work and study, but now also over their bodies, is outrageous.
"It is a fundamental human right to have access to family planning and contraception services free of coercion. Such autonomy and agency are essential components of women's rights such as the right to equality, non-discrimination, life, sexual health, reproductive health, and other basic human rights."
Another midwife, who fled Kabul after death threats from the Taliban, is in daily contact with her colleagues who have remained. "The contraceptive ban would drastically affect the already deteriorating reproductive health situation in the country," she said. "I fear the gains we made in the past decade would be lost after this move."
Fatimah, a midwife in Kabul, said: "We are living in a suffocating environment. I have not felt so insecure in my entire career."skip past newsletter promotion
Even before the Taliban came to power, a 2021 Human Rights Watch report said the most basic information on maternal health and family planning was not available to most Afghan women.
"What emerged is a picture of a system that is increasingly unaffordable to the estimated 61% to 72% of Afghan women who live in poverty, and one in which women often have more children than they want because of lack of access to modern contraception; face risky pregnancies because of lack of care; and undergo procedures that could be done more safely with access to and capacity to use more modern techniques," the report revealed.
Activists called on the Taliban to abide by international agreements which set out universal access to sexual and reproductive health care.
"Access to contraception and the right to family planning is not only a matter of human rights; it is also central to women's empowerment and lifting a country out of poverty," said Nasimi.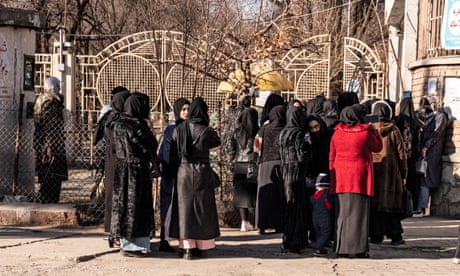 "It is well established that the Qur'an does not prohibit the use of contraception, nor does it forbid couples from having control over their pregnancies or the number of children they want to have. The Taliban have no right to restrict access to contraception based on their own interpretation of Islam."
The Qur'an supports women having a gap between pregnancies to raise their children.
However Ustad Faridoon, a Taliban official based in Kandahar, told the Guardian he did not support a total ban.
"Contraceptive use is sometimes medically necessary for maternal health. It is permissible in the Sharia to use contraceptive methods if there is a risk to the mother's life. Therefore, a complete ban on contraceptives is not right."
Some reproductive rights experts in Afghanistan contacted by the Guardian were not willing to comment due to security concern