While our Government in Aotearoa/New Zealand has just passed legislation to ban 'Gay Conversion Therapy' here in the South Pacific (and now. even more recently, the federal government in Australia) our British confreres are still waiting for this element of justice to be exercised towards LGBT+ people in the U.K. by the local government there.
Some of the more vociferous anti-gay factions in the U.K. – among them some conservative Anglican clergy – have written a letter to the government asking them not to proceed with the proposed legislation to ban the pernicious and harmful therapy designed to change gay people into heterosexuals!
G.C.T. was a process now considered by both medical and social authorities to be potentially damaging socially, emotionally and spiritually to its recipients. Pope Francis and many other Church leaders have now expressed their belief that the former opprobrium attached to those with homosexual tendencies was a mistaken social and even theological understanding of the etiology of gender and sexual identity – not only in the animal world but also in the human population. The now well-known variation in gender/sexual identity is acclaimed as a fact that should be embraced and celebrated rather than criminalised or in any way discouraged. To be gay is now accepted as natural to a particular group of people as, in other instances to be left-handed (once thought to be 'sinister') or left-footed.
There is plenty of evidence of failed G.C.T., which has caused havoc in the lives of young Christians who have been persuaded by 'well-meaning' (?) Christian clergy and others that they need to be 'freed' from their inbuilt sexual attraction to people of their own gender – in order to conform with certain 'Christian values', perceived to be derived from certain proscriptions from the Old & New Testaments which, in terms of modern biological understandings and hermeneutics, prove to be invalid.
When the G.C.T. process fails to achieve the desired result – as it must for those who are intrinsically same-sex-oriented, there have been instances of serious self-harm – including suicide – that have caused concern for parents whose children have been subjected to over-zealous advocates of conversion therapy – whether by chemical, psychiatric, or spiritual means – that have simply failed to deliver. For Christian LGBT+ people, this negative result can mean that they begin to lose their faith in the God who 'failed' to bring about the desired result
Father Ron Smith, Christchurch, New Zealand
__________________________________________
Oxford Pride condemns conversion therapy open letter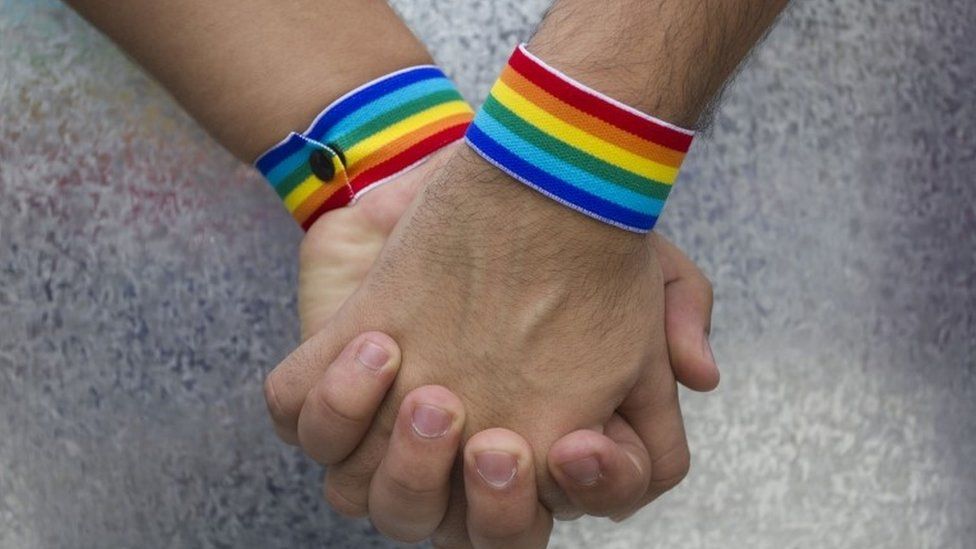 Church leaders and an LGBT charity from Oxfordshire have condemned a letter signed by Christian ministers opposing a ban on conversion therapy.
The letter to Equalities Minister Liz Truss was written in response to a consultation on outlawing the "potentially harmful" practice.
It is signed by 2,500 ministers and pastoral workers, and says banning it would breach their legal rights.
But Oxford Pride said it was "disgusted and disappointed" by the letter.
According to NHS England, conversion therapy tries to change someone's sexual orientation or gender identity.
It warns that all forms of the practice are "unethical and potentially harmful".
In October, the government opened a public consultation on its plans to make administering "talking therapy" for under-18s or non-consenting adults illegal.
The letter describes conversion therapy as a category "so broad as to be essentially meaningless" and legislation to ban it "strongly risks" criminalising ministers.
It said while signatories "do not consider that there is a particular defect or deficiency those who identify as LGBT have", the "internal desires to commit sexual sin… are certainly defects and deficiencies".
In response Oxford Pride said: "Of this letter, 18 ministers are from Oxford churches. Six of which are from St. Ebbe's Church.
"We do not believe that these signatories act in a loving, or indeed Christian way.
"They believe we are 'defects', and they would have us go through harm to change ourselves."
'Unacceptable'
The Bishop of Dorchester, the Rt Revd Gavin Collins, who is responsible for 326 churches in the Diocese of Oxford, said: "The letter has undoubtedly upset a lot of people.
"It puts out a message that people aren't safe or welcome in our churches, and it cuts across the settled view of the Church of England that coercive conversion therapy is unacceptable and should be banned.
"I am disappointed that the authors have used an open letter to diminish people who are in faithful same sex relationships and those who are transgender."
He added: "I am clear that we are all made in God's image, that all are welcome in His church and that everyone has a place at the table."
Jayne Ozanne, a member of the General Synod and chair of the Ban Conversion Therapy Coalition, wrote in her blog that the letter had a "self-dramatising and intransigent attitude" which hampered the sharing of the Gospel.
Ms Ozanne, who herself was subjected to the practice, added: "It is precisely because these Christian leaders think that what they do is both loving and acceptable that we need this legislation in the first place."
In 2017 The Church of England agreed conversion therapy had "no place in the modern world, is unethical, potentially harmful and not supported by evidence".
The BBC has approached several signatories for comment.
In a statement St Ebbe's said: "Those who read the full text of the letter will know that its signatories are certainly not supporting conversion therapy.
"They are rather expressing widespread concerns that, without further clarification, the proposed legislation could unintentionally end up criminalising key aspects of mainstream Christian belief and ministry.
"We wholeheartedly affirm the immense dignity of all people, without exception, as made in God's image."