Karine Jean-Pierre makes history as first gay woman to lead White House press briefing
"Clearly the president believes that representation matters and I appreciate him giving me this opportunity."By Alex Bollinger Wednesday, May 26, 2021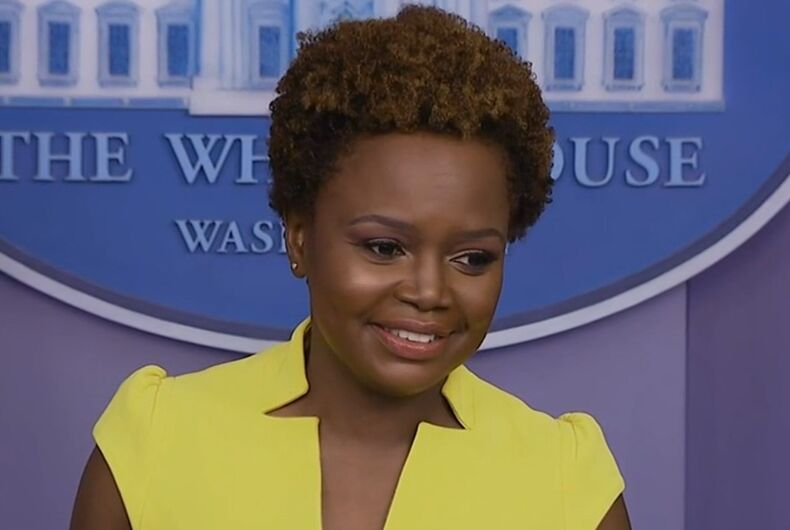 Karine Jean-Pierre leading the May 26, 2021 White House press briefing (Photo: Screenshot/CBS)
Deputy Press Secretary Karine Jean-Pierre just became the first gay woman to lead a White House press briefing in the James S. Brady Briefing Room earlier today and the second Black woman to do so.
"It's a real honor to be standing here today," Jean-Pierre said. "Clearly the president believes that representation matters and I appreciate him giving me this opportunity."
Related: How strongly does President Biden support LGBTQ rights? We asked the man who knows best.
The first Black woman to conduct a White House press briefing was Judy Smith in 1991. She served as Special Assistant to the President and Deputy Press Secretary under President George H.W. Bush from 1991 to 1993. Her crisis management skills guided the administration through the public controversy around Clarence Thomas's nomination to the Supreme Court, beginning her reputation as a "fixer."
And the first LGBTQ person to conduct a White House press briefing was then Deputy White House Press Secretary Eric Schultz in 2014.
During the briefing, Jean-Pierre discussed the Senate confirmations of Kristen Clarke and Chiquita Brooks-LaSure. Clarke will lead the Civil Rights Division of the Department of Justice and Brooks-LaSure will lead the Centers for Medicare and Medicaid, and both are the first Black women to take on those roles.
White House Press Secretary Jen Psaki praised Jean-Pierre this morning on Twitter, saying she "is doing her first full briefing from the podium today making history in her own right."
"But doing her real justice means also recognizing her talent, her brilliance and her wonderful spirit," Psaki added.
And Washington Blade reporter Chris Johnson noted the historic moment.
Jean-Pierre has led a few press "gaggles" outside of the White House that were off-camera earlier this year.
During the 2020 presidential campaign, Jean-Pierre served as Kamala Harris's chief of staff.
_________________________________________________________________________
This is a U.S. President (Joe Biden) who is quick to reverse the homophobic, sexist regime of his once-famous predecessor, Repiblican Donald Trump. By appointing a gay blackwoman, Karine Jean-Pierre, to be his Deputry Press Secretary. President Biden is setting a valuable precedent at the White House, where his Vice-President. Kamala Harris is also part of the LGBTQ sector of the population of the United States.
Inclusivity is a vital plank in the Democratic Party's move back into government – an eirenic tactic that hopefully, will help to ensure America's status as a leader in the emancipation of the American people from the Republican tendency – under Donald Trump – to division on grounds of race, gender or sexual-orientation.
Father Ron Smith, Christchurch, New Zealand