Bishop of Blackburn says he and others would have to 'reconsider their allegiance'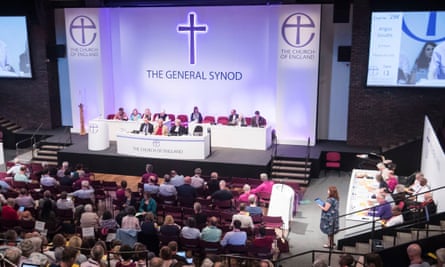 A meeting at the Church of England General Synod in 2017. Photograph: Danny Lawson/PAHarriet Sherwood@harrietsherwoodMon 23 Nov 2020 17.26 GMT
A Church of England bishop has said he and other conservative evangelicals may leave the church if it changes traditional teaching on sexuality and identity.
Julian Henderson, the bishop of Blackburn, said such a move would be "a moment for people to have to reconsider their allegiance to the church".
He made the comments in a slick 30-minute video, produced by the C of E Evangelical Council (CEEC), which sets out orthodox biblical teaching on sexuality and relationships.
The Beautiful Story urges evangelical members of the church to stand for election to the C of E's ruling body, the General Synod, in order to oppose and vote against any change to traditional teaching.
Henderson, who is president of the CEEC, says on the video: "As and when the church gets to the point where it changes its teaching and its liturgy and its practice in these areas, it is going to be a moment for people to have to reconsider their allegiance to the church.
"At the moment I want to be in the Church of England, I want to fight for the traditional teaching of the church on these matters. But the time may come when it's going to be essential for those who hold to scriptural teaching on marriage and same-sex relationships to say: 'We cannot operate under this particular system and support this kind of doctrine and practice within the life of our church.' And that may then lead to having to look for alternative solutions."
This month C of E leaders said a decision on sexuality and identity issues that have divided the church for decades would be taken in 2022.
At the moment the church does not allow same-sex marriage and does not officially bless same-sex civil marriages. Gay clergy are permitted to be in relationships so long as they are celibate.
The bishops' pledge came after a three-year mission to examine issues of sexuality and identity, known as Living in Love and Faith, produced a raft of materials designed to facilitate yet further discussion by parishes and congregations.
Addressing an online meeting of the synod on Monday, Justin Welby, the archbishop of Canterbury, spoke of the "complexity of the issues" in which there were "few or no binaries". "It is not as simple as some on all sides of the discussion like to pretend," he said.
Jayne Ozanne, a leading campaigner for LGBT equality in the C of E, said the video "sets out the harmful teaching to which many evangelical churches are subjecting their congregations – including their LGBT+ congregants".
She wrote in a blog: "Make no mistake about it, Church of England, this sort of teaching is wrong, harmful, dangerous and must be stopped. What is it going to take? Another young person deciding to take their life?"
She called for an independent inquiry into the "harmful practices and rhetoric that LGBT+ people are being subjected to in our society, and by certain religious groups in particular."
_______________________________________________________________
This article from The Guardian in the U.K. reveals the institutional homophobia that stills exists in parts of the Church of England – despite the forward-looking attempt of 'LLF' (Life in Love and Faith') to redress the attitudes of certain Con/Evo bishops, clergy and lay-people who want no change in Institution on issues of gender and sexuality.
The Bishop of Blackburn here voices the opinion of conservative Evangelical group in the Church of England (CEEC) – the Church of England Evangelical Council, which does not speak for ALL Evangelicals in the Church.
Jayne Ozanne, herself an Evangelical member of the Church of England General Synod, is supported by other Evanglicals; bishops clergy and laity who do not want to be linked to the minority of Evangelicals – like the Bishop of blackburn, who are threatening that, if the Church proceeds on its pathway to full inclusion of LGBTQ people in the Church, this will cause a 'massive exodus' from that Church.
Interestingly, there is already a coterie of ex-Anglicans who are linked with the dissident GAFCON/FOCA/ACNA sodality who have broken away from mainstream Anglicanism. In the U.K., they are currently operating under the title of 'GAFCON UK', which has its own clergy and a 'bishop' ordained overseas.
In New Zealand, we have a similar small group of ex-Anglicans operating under the title of  'Church of Confessing Anglicans Aotearoa/New Zealand', CCAANZ, whose local bishop was ordained by a group of African, American, English, Australian and N.Z. bishops, all associated with the GAFCON movement – which has its own leadership headquartered in Sydney, the USA and Africa. These, too, were not happy with our local Anglican Church's decision to allow for the Blessings of legal same-sex marriage partners.
Whether the Bishop of Blackburn is threatening to join the schismatics in GAFCON/UK or not, he is certainl;y stirring further controversy in the Evangelical wing of the Church of England that will probably cause a further split between those who believe that every member of the Church is the be valued and respected, and those who think that the Bible forbids legal, consensual, non-heterosexual relationships. Meanwhile, the Church of England is doing it's best to counter the abusive nature of sexism and homophobia, by continuing to at least keep the subject alive in local debate.
Father Ron Smith, christchurch, New Zealand