Teenager comes out as gay in Sydney Catholic school assembly
Exclusive: Finn Stannard tells SBS News why he chose to share his journey to accepting his sexuality with 1,500 people, as footage of his powerful speech is released.
When Finn Stannard stood up in front of more than 1,500 students and teachers at his Sydney school, it was to say something he'd been weighing up for a long time.
"I have been working towards this speech for four years," the then 17-year-old revealed to a packed assembly hall at St Ignatius' College, Riverview, earlier this year.
Then he told them all he was gay.
"Announcing yourself to the world is pretty terrifying," he said in a video of the speech released exclusively through SBS News. "What if the world doesn't like you?"
Announcing yourself to the world is pretty terrifying.

– FINN STANNARD
"Life was easier living as the straight eldest son. I had spent so long behind the façade of a confident, heterosexual man that I wasn't sure if I knew how to be me."
READ MORE: See Finn's full speech here
Finn, who has just finished his HSC, now hopes sharing his keynote address – written to a younger version of himself – might help "all those people who are lost", just as he was.
"I think that's really the biggest reason I made sure I got up onto that stage and gave the speech," he told SBS News. "I don't think anybody should have to go through the feeling of loss that I felt like I'd gone through."
Finn's speech in June was bookended by at times fierce national debates about sexual orientation, most recently whether religious schools should have the right to discriminate against gay staff and students.
Two of St Ignatius' most prominent alumni, former prime minister Tony Abbott and his former deputy Barnaby Joyce, were high-profile opponents of same-sex marriage in the lead up to last year's plebiscite.
For Finn – who will next year begin university studies to become a secondary school teacher – it was the resounding victory of the Yes vote that gave him the confidence to press ahead with his idea of doing the assembly.
"When the results of the plebiscite came out, that's when I knew that I could do the speech and it would be alright in the end," he said.
St Ignatius' principal Paul Hine described Finn's speech as a "watershed" moment for the college, which wanted to support his decision to publicly share his story and its message of acceptance.
"I'm not sure anyone chooses their sexuality, that's who they are and therefore we need to be open to that and to accept it and to make sure we live in communities of inclusion – and with that will come diversity," Dr Hine told SBS News.
We need to make sure we live in communities of inclusion – and with that will come diversity.

– PAUL HINE, ST IGNATIUS' PRINCIPAL
"Certainly that's the case in the world beyond so in my view that should be the case in schools."
Finn, who is quick to acknowledge the support he received from the school, his family and friends, said there was no example of an openly gay student to look to when he was struggling to come to terms with his sexuality as a 13-year-old.
Instead, his speech detailed the toll of "countless rumours and unpleasant jokes", as well depression and anxiety compounded by the word "gay" being used as a throwaway playground jibe.
"It was these, seemingly small, yet cumulative experiences that made me feel like I would never be accepted," he told the room.
Finn told the assembly that his own experience demonstrated the importance of asking for help, as well as stepping up to help those in need – a message he hoped would resonate with those coming to terms with any aspect of their identity.
"Being different, whether it's being gay or being part of another minority group, can be challenging but it does not have to be scary and isolating," he told the room.
"Every single one of you can help, in your own way, by accepting others for exactly who they are."
His speech was not the first time the school's annual 'friends listen' assembly has sought to break down taboos. In a 2015 speech that later went viral, school captain Xavier Eales opened up about his battle with depression.
Finn's mother Megan Stannard, who admits to being concerned about a potential backlash, said the family was instead overwhelmed by the standing ovation the speech received.
"The fact that Finn was supported, the fact that his message was heard – I was in tears," she said. "I was just so proud of him."
The benefits have continued to flow since. Mrs Stannard said she has seen a new confidence in her son, as well as a recognition that he can make a difference to others.
"I think that's any parent's dream – to see them flourish," she said.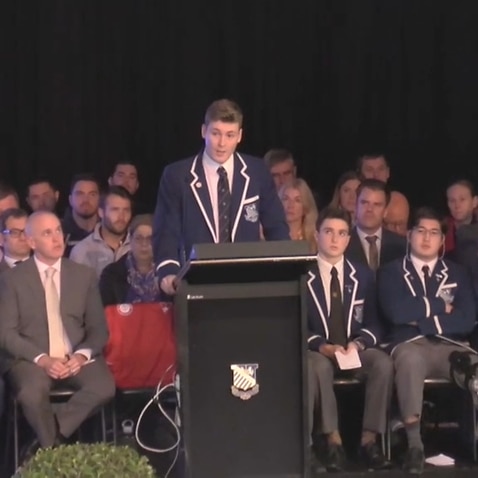 ______________________________________________________________
SBS News has this remarkable story of a 17-year-old Catholic schoolboy 'coming out' to his peers and to his School Assembly in his Keynote Address at his school – St Ignatius' College, Riverview in Sydney, Australia.
This is a situation where a teenaged gay person summons the courage needed to reveal the most intimate secret of his personal life – because he feels it necessary to confront the reality of sexism and homophobia that might normally be thought to preoccupy the environment of schools and institutions – where even the suspicion of 'being gay or different' can draw unwelcome and. at times, derisive or bullying attention.
Dr Hine, the school's Headmaster, deserves credit for not only acknowledging that one's sexuality is not necessarily self-chosen – a brave thing to do one might guess in the light of the Catholic Church's official stance on this matter – but also commending the ready openness of a senior student on a delicate matter. However, Finn's parents were entirely supportive of their son's sexual orientation and were prepared for his coming out to the school assembly, believing that this would be a good way of breaking down the culture of bullying that many young people encounter in their journey towards maturity.
The applause that Finn received after his keynote address gives evidence of the fact that young Roman Catholics are not too different from other people in their approach to the issues of gender and sexuality that are part and parcel of everyone's life. Perhaps this outbreak of honesty and openness to the world by a young, brave teenager will help institutions and schools in Australia and other places to the reality of sexual difference in a minority of the world's population – a reality that needs to be accepted and lived with, rather than being feared and discriminated against.
Bravo Finn, and St. Ignatius College!
Father Ron Smith, Christchurch, New Zealand