Our new prime minister may soon find herself facing the same problems as her saintly namesake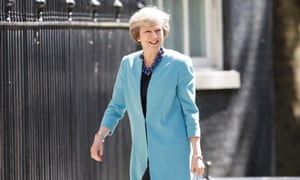 _________________________________________________________________
Father Giles Fraser, one-time  Canon Chancellor of St Paul's Cathedral and director of the St Paul's Institute from 2009 until his resignation in October 2011., and now Priest in Charge of St. Mary's, Stoke Newington; compares the new British Prime Minister, Theresa May, with the mediaeval Saint Theresa of Avila – a noted eccentric among the Saints of the Church.
Theresa May, on the other hand, is the daughter of an Anglo-Catholic priest of the Church of England and obviously influenced by her father's take on the world in all its complexity, from the point of view of a 'catholic' understanding of salvation and redemption.
Giles compares the life of his own daughters – as children of a priest – with that of the new British Prime Minister, and how it affects one's view of the world from the inside of a vicarage. Let's all hope that this clerical upbringing will bring out in the new P.M. the attitude of service that this faithful member of the Church ought to render to God in the real world of her new political office and responsibility. After Brexit, she will surely need out prayers!
Father Ron Smith, Christchurch, New Zealand